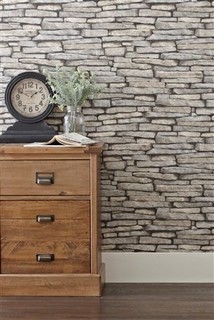 Craving the look and feel of a cabin in the woods, rustic nautical cottage, exposed brick facade, or vintage tin tiles? Without spending thousands upon thousands of dollars to create this look using natural materials, this look can become a reality within your home! Maybe you enjoy changing up your look, or maybe you know exactly what you want, but do not like the hefty price tag and dusty mess associated with it! Textured wallpapers are all the rage right now, and they are available in a wide range of prints — plus, they look incredibly real, with depth and relief galore, even though they are as flat as any other traditional wallpaper. Genius!
Incorporating This Trend in Your Home
Is this a trend you would like to incorporate into your home? Here are just a few of our suggestions:
1. These wallpapers are best used on just one wall of your home. Maybe you want an entire "wood paneled" room. Just start with one wall. Though these papers look real, it is important to use them sparingly.
2. These papers are permanent. Though they can be changed out and are considerably less expensive than the real thing (stone, brick, panels, etc.), they still represent an investment into your home's interiors.
3. Select these fake facades with the help of a professional interior designer so things will not end up looking cheesy or disjointed but rather consistent, cohesive and "wow".
This trend is oh-so-much fun! We would love to show you some of the many papers available out there!